Happy December!
Red Velvet cake is my favorite kind of cake. If you've read Where You Go, you'll recall Alex has extremely strong feelings on the subject as well, and this is one place where fiction and reality do match.
I've wanted to find a fun way to share the recipe I use. It's adapted from Christa Wilson's Kiss My Bundt which is an absolutely fabulous book for bundt cakes. Seriously put this on your list NOW if you like bundt cakes! I've found the recipes easily adapted to all sizes of bundt pans, including minis, which are my kids' favorites. I've even used this recipe as a sheet and layer cake—it's just excellent all the way around!
Happily, my amazing friend Robyn Scibbe created this lovely little Red Velvet Cake PDF that includes the recipe and my secret tip for the best icing (dare I say!). I hope you'll download it, print it out, and make yourself some bundts!
In case you don't have a good bundt pan, I recommend this one as a great starting place, and this is the mini bundt pan I use ALL the time. It's really amazing. Just remember to coat with Baker's Joy, which I personally find smells utterly repellent, but is more effective than any other method I've tried (butter and flour, oil and flour, Crisco and flour…).
Here are some photos of the mini bundts I made on my birthday this year. We'll likely enjoy a big ol' bundt for Christmas, too. I should probably note that I always make fun designs, but most of my frosting-loving people need more, so they top with a big un-pretty blob. I prefer just a bit of frosting, so the pictured amount is just right.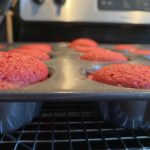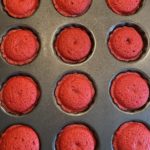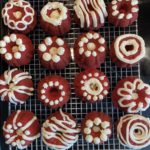 I hope you'll let me know if you try this or any of Wilson's other fabulous bundts! You can see me bake my way through these babies on Instagram in my baking highlight (more than once, hah!). Enjoy!