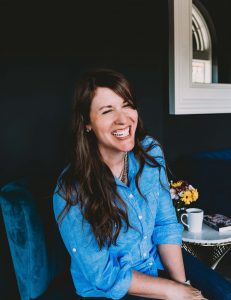 The short version: Claire Cain lives to eat and drink her way around the globe with her traveling soldier and three kids, but is perhaps even happier hunkered down at home in a pair of sweatpants and slippers using any free moment she has to read and cook. Or talk—she really likes to talk. She has become an expert at packing too many dishes in too few cabinets and making houses into homes from Utah to Germany and many places in between. She's a proud Army wife and is frankly just really happy to be here.
The longer version: Hi! I'm Claire Cain. After college in New York, I married my best friend who commissioned into the Army the same week we were married. At our second duty station I earned my Master's degree in English Literature with a focus on Creative Writing—though my passion then was creative non-fiction. I taught English for the university, forcing critical thinking and correct use of semi-colons on unsuspecting freshman and sophomores for more than eight years.
I always wanted to write a book, but I couldn't wrap my head around what I'd write about. It wasn't until 2017 when I started reading romance that I found the kind of stories I wanted to tell—stories that made people happy, that didn't take away but instead added to the celebration of love.
After reading as many books as I could get my hands on, I found a recurring theme in the military romance sub-genre—they were almost always romantic suspense. If they weren't suspense, then they were either a. a story about a special forces soldier or b. a story about a soldier (usually from the a category) who'd retired and started/joined a security agency of some kind.
And there were some great ones. But what I kept thinking was, "Where's my story? Where's my soldier?" I wanted to see stories about "regular" soldiers, and more particularly, I wanted to see the women who love them address some of the things that I've found challenging about being a military spouse. So! When I didn't see those books, I decided to write one.
Then I wrote another. And another. And another. And I hope I'll keep writing for another few decades, keep telling stories that celebrate love, both between service members and their spouses, and others.
Thank you for taking the time to stop by the website. Please sign up for the newsletter so you can keep up to date with new releases and don't miss out on the freebies I send out to my mailing list!
Thanks for stopping by,
Claire
CONTACT ME: