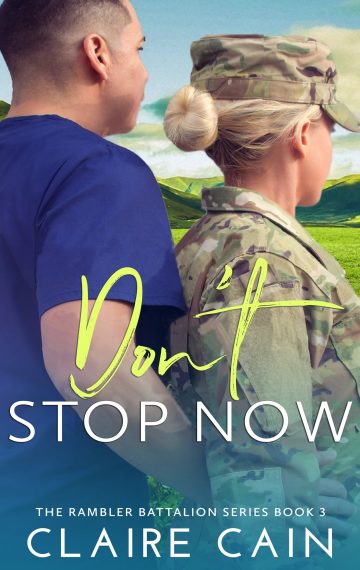 Rambler Battalion
Available in:

Paperback, E-book
Read It Now!
Don't Stop Now: The Rambler Battalion Series, Book 3
Lieutenant Gabriel Marquez + Captain Rae Jackson
I have no interest in getting mixed up with Lieutenant Marquez. He isn't just a hot ER nurse—he's also a fellow Army officer. I'll never compromise myself or my career by dating another soldier. It's my one unbreakable rule.
But as we get to know each other, despite telling him—and myself—we have no future, I'm starting to doubt my resolve.
We laugh, we talk, and we can't get enough of each other. I know we need to address this sizzling tension between us, but I need to keep him at arm's length. I can't be with him. I won't.
But this man is testing my resolve. He's respecting my decision… because he's loyal and honorable and everything a soldier should be. But he's also promising me the world if I'd just let him in.
At this point, I'm not sure how much longer I can stay away. And worse than that? I'm not sure if I want to.
***
Don't Stop Now is book three in the Rambler Battalion Series. It includes sweet heat, mild language, and all the feelings in a dual-POV narrative.