Don't Stop Now is LIVE!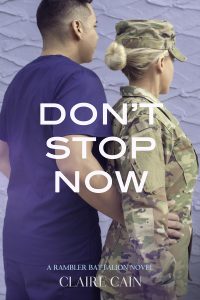 This book stands alone, so if you haven't read the first two books in The Rambler Battalion Series, you can absolutely enjoy this book. And if you've read the first two, well… enjoy book three!
Rae and Gabriel are a dual military love story that confront the challenges of a dual service relationship, an interracial relationship, and a whole lot else. I hope you enjoy reading their story as much as I enjoyed writing it!
BLURB:
Rae
If someone had told me that the handsome ER nurse Lieutenant Marquez would turn out to be the only man to tempt me to bend my unbreakable rule, I would have laughed in their face.
But here we are becoming closer despite the fact I told him (and myself) we had no future. Despite the fact that I'd learned my lesson, and I'd never compromise myself or my career for someone else.
I don't need a future with anybody else—I have my plan, and I'll stick to it. If only Gabriel would stop being the physical manifestation of a dream I didn't know I had.
Gabriel
Captain Rae Jackson is the stuff of dreams—literally mine, and probably every unattached man or woman on base. And despite her insistence that we can't be together, we are. Constantly. Laughing, talking, connecting. And it's killing me.
At some point, we'll have to address this sizzling tension, that wanting that spills from her eyes, and that arm's length she keeps putting between us.
She says she can't—won't—be with me. She says she won't date someone in the Army, and I'm caught between respecting that decision and knowing in a cosmically absolute way that she's wrong. I'll give her anything if she'll just let herself want me.
Find it on e-book and print where books are sold online, or request at your local indie bookstore.
Add it to your shelf on Goodreads
Find and review it on Bookbub