Available TODAY ONLY — April 1, 2021!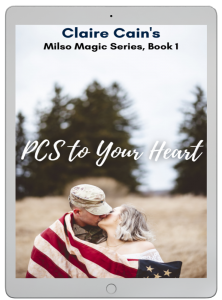 PCS to Your Heart
When JackieLynn sees Jared, she's smitten. But far too soon, she learns Jared, a soldier in the US Army based out of Fort Bragg, NC, is scheduled for a Permanent Change of Station—he'll be leaving town for good.
Against all odds, Jared has finally met the woman of his dreams at the worst possible time. But he can't resist being with her, nor will he, so he pulls every string possible and convinced his branch manager to change his orders. He won't be PCSing anywhere, unless it's straight to JackieLynn's heart.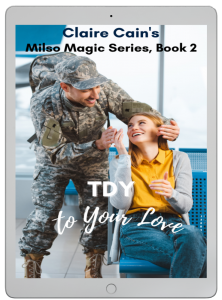 TDY To Your Love
Mickey can't stop thinking about the blind date he had weeks ago. He's been gone for months, but as soon as he returns to his regular duties at Fort Bragg, he contacts Mandy.
Before long, Mickey's gone again, another TDY—temporary duty trip. The absence makes his heart grow fonder, and before he knows it, he'll be be back, on a TDY to Mandy's love.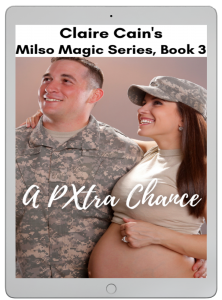 A PXtra Chance
Things between Carrigan and Camden ignited like a firework, and burned out just as quickly. But months later, when Camden sees Carrigan at the PXtra where she works at the barber shop, she's pregnant, and somehow, he just knows the baby is his. 
Carrigan hasn't spoken to Camden—not after the way he disappeared after their time together. But she's got a life-long souvenirs she never planned for him to know about. Now that he's seen her, he won't stop trying to make up for his past wrongs. 
Carrigan must decide—will she give Camden a PXtra chance?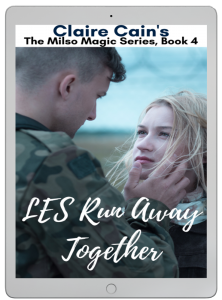 LES Run Away Together
Braxley has always loved Baylee. Their time apart while he was in basic training brought their relationship closer than ever, and now that he's on active duty, he's got plans for their future together.
Baylee's never been outside her small town, but when Braxley comes home on leave and asks her to run away, she'll have to make a choice she never imagined. 
Will she stay in the comfort of home, or will she join Brax for the Army adventure of a lifetime?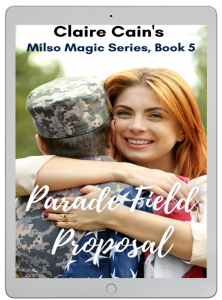 Parade Field Proposal
Ava and Ajax tried long distance, but Ajax's fear of commitment, and a lengthy deployment separation drove them apart.
Two years later, Ajax stumbles upon his sweet Ava, and it just so happens she lives right near his new duty station at Fort Bragg. Their chemistry ignites again, just like before, and soon they're taking their second chance.
All Ava wants is a secure future, but Ajax has been cagey, secretive… right up until the division change of command when he stages his parade field proposal. But has Ava given up on Ajax?
(April Fools, friends! All just a fun look at stock photos and military puns for titles. Thanks to my Claire's Sweet Readers group for coming up with some of these titles last summer when we were brainstorming titles for the OCONUS Bonus Series books. Join us HERE if you haven't yet!)