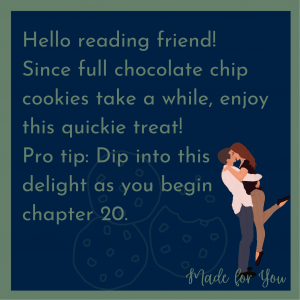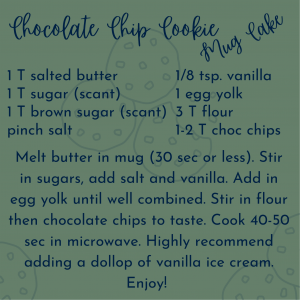 Hello reading friend!
Since full chocolate chip cookies take a while, enjoy this quickie treat! Pro tip: Dip into this delight as you begin Chapter 20 of Made for You 🙂
RECIPE for Chocolate Chip Cookie Mug Cake:
1 T salted butter
1 T sugar (scant)
1 T brown sugar (scant)
pinch of salt
1/8 tsp vanilla extract
1 egg yolk
3 T flour
1-2T chocolate chips to taste
Melt butter in a mug (30 sec or less). Stir in sugars. Add pinch of salt and vanilla. Add in egg yolk until well combined. Stir in flour then add chocolate chips to taste. ENJOY!
*I've fiddled with amounts of almost everything here. I recommend keeping the 1T of butter, but you can skimp on sugar or increase salt depending on how you like your flavors. Watch the cake and make sure it's dry when you remove it (50 sec is my guess but if your microwave is powerful, check earlier!). Highly recommend a big spoonful of vanilla ice cream to top it and get melty with it.
**Sincerest apologies to my dairy and gluten intolerant friends. I don't have alternatives for you this time but I'll work on that going forward!
Enjoy!
CC