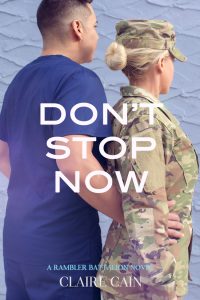 Don't Stop Now
The Rambler Battalion Series, Book 3
Available Now!
BLURB:
Captain Rae Jackson has no interest in handsome ER nurse Lieutenant Marquez. She'd never compromise herself or her career for someone else—she'd never break her unbreakable rule. But as they get to know each other, despite telling him (and herself) they have no future, Rae begins to doubt her resolve.
For Gabriel, Rae is the stuff of dreams—and despite her insistence they can't be together, they are. Constantly. Laughing, talking, connecting.
At some point, they'll have to address the sizzling tension, the wanting that spills from Rae's eyes, and that arm's length she keeps putting between them. She claims she can't—won't—be with him.
Rae insists she won't date someone in the Army, and Gabriel's caught between respecting that decision and knowing in a cosmically absolute way that she's wrong. He'll give her anything if she'll just let herself want him.
Find it here:
*Now available on Kindle Unlimited! E-Book available for purchase or through KU on Amazon only, while print copies are available wherever print books are sold online!
This site is reader-supported. When you buy through links on the site, I may earn a small commission. Thanks.
Also find it on: