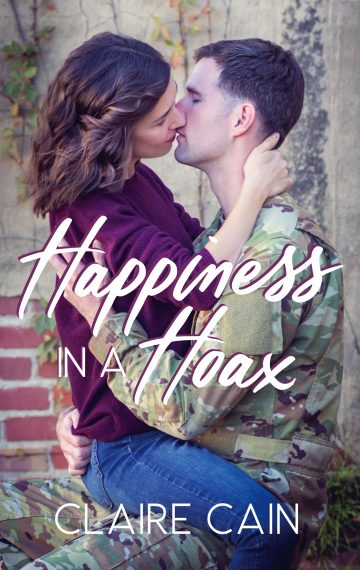 Soldiers Overseas
Available in:

Paperback, E-book
Read It Now!
Happiness in a Hoax: Soldiers Overseas Romance, Book 2
Sergeant Noah Miller + Katie Miller
Their fake marriage saved her life. Now, she needs to save his.
Katie Miller is pursuing her dream job thanks to her life-saving fake marriage to Sergeant Noah Miller. In five years, they've never lived in the same place, and his commanders are getting suspicious. So, when Katie hears that Noah needs her, she joins him in Germany and plays wife to convince his superiors their marriage is real. She didn't expect that she wouldn't have to fake their connection—now Katie's wishing for things she's never let herself dream about.
Noah never imagined he'd be spending a week in close quarters with his wife. He married Katie to help her, but he has benefitted from the agreement too. In the wake of his capture, she's the one who shows up, the one he wants. The only problem? They're set to divorce in just a few months, and he's pretty sure Katie's better off on her own.
The terrible events that brought them face to face might just be the best thing that has ever happened to either one of them—but only if they're brave enough to admit it.