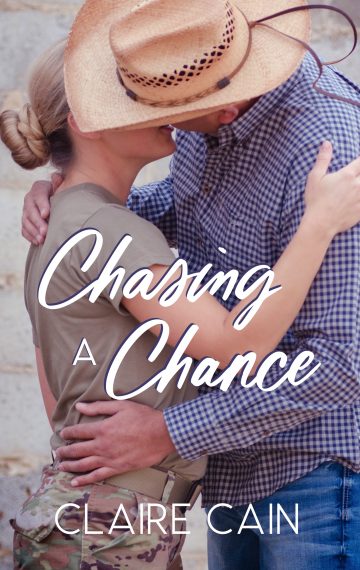 Soldiers Overseas
Available in:

Paperback, E-book
Read It Now!
Chasing a Chance: Soldiers Overseas Romance, Book 6
Beau Richmond + Staff Sergeant Alicia Cartwell
She doesn't need a man. He doesn't want a woman. They're both wrong. 
Alicia Cartwell has a matter of months left on her active duty Army contract before she enters the civilian world and pursues her plans to become a competitive FitCross athlete. She's laser focused and nothing can throw her off her game—except maybe herself.
Beau Richmond has no interest in relationships, especially not during his one year abroad at Kugelfels Army base in Germany as a civilian contractor. But when he meets Alicia, all bets are off.
Through repeated encounters on the small Army post and a chance meeting on a trip to the Alps, Beau and Alicia discover their best laid plans to avoid romance are no match for their blossoming friendship and chemistry. But will they risk compromising their futures to chase the chance that they're meant to be?