As You Are
The Rambler Battalion Series, Book 2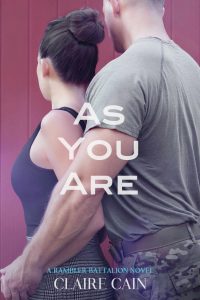 Blurb:  Dr. Elizabeth Kent never expected to fall for someone like Sergeant First Class Jake Harrison—someone who knocks her off balance and forces her to be honest with herself. She has finally admitted she doesn't want the life of a professor, even if it means disappointing her family and throwing away years of work.
Jake appeals to Ellie on every possible level—too bad he doesn't date and definitely isn't interested in her.
But she knows things about Jake he hasn't shared with anyone else. Despite their rocky start, they've become friends. Until something shifts, and contrary to everything Ellie knows about him, Jake seems to want her.
Once Jake embraces the idea of committing, he'll be all in—but everything in Ellie's life is falling apart. Could Jake want her as much as she wants him? And if he does, can she let herself have him?
Where to find it?
*Now on Kindle Unlimited! E-Book available for purchase or through KU only on Amazon. Print books are available wherever print books are sold online!
This site is reader-supported. When you buy through links on the site, I may earn a small commission. Thanks.
Also Find it On: