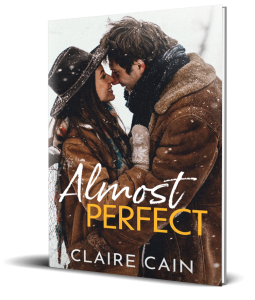 Almost Perfect, book 1 of the Back to Silver Ridge Series, releases February 9, 2022. This is a closed-door small town romance. It is a stand alone, but you may find you enjoy returning to Silverton after reading The Silver Ridge Resort Series.
Can't wait to read Wyatt and Calla's story? Here's a sneak peek of the first TWO chapters! Great your pre-order copy HERE.
Chapter 1
Calla
Being late didn't bother me anymore.
Whoever was waiting? They could wait. They'd live.
Or at least, that's what I told myself. I'd gotten so used to Candy making me late, I'd had to come up with this whole I'm the most important person in the room mindset to cope with it. That came naturally after being in the spotlight so long anyway, but a lot of people got sick of that attitude.
So, that was one more thing I didn't have to do anymore. I'd shown up on time for every obligation I'd had in the last eighteen months since she'd passed. Good for me.
Cue crashing, gnawing guilt.
"Did you get everything you need?" the cabbie asked from his seat.
"Think so. Thanks."
I adjusted my sunglasses like that would help. He'd gotten more talkative in the ten minutes between the small mountain airport where the private plane had landed, and entering the small mountain town of Silverton, Utah and waiting while I ran into the grocery store.
Now he wound his way through the snowy downtown, which I happened to know wasn't the fastest way to get to my destination. He couldn't be driving up the fare because we'd settled on a flat rate. Normally, I'd take a hired car but none could meet me at the requested time, and I hadn't wanted to wait.
"You been here before? It's grown a ton in the last five years or so, more in the last three for sure, since the gigantic new hotel they built got crazy popular. Nice little ski town now."
Had I been to Silverton before?
"I have, but it was in another life."
Cryptic enough it didn't invite questions. Also, true. Coming back was like hopping on a spaceship to another planet. I'd become someone else since then, and twice over too—I'd had to. So much so, I hardly remembered the person who'd started life in this small town so long ago.
That I'd grown up in this town until just shy of fifteen felt more like a weird piece of trivia someone might dig up and wave around more than something that had shaped me.
It had, though. Hadn't it? Why else had I come back after as many years gone as I'd spent here?
I brushed away those thoughts. I had plans to fully wallow in the circumstances, but not yet. I sure as hell wasn't about to break down in front of Jarrod the cabdriver. Nice enough guy, but the more questions he asked, the more likely it was he recognized me. I'd hoped maybe I could avoid having him sign an NDA, but this was what you got when you didn't make reservations with a private car service. Oh, well.
I could hear my PA Kristoffer chiding me, and could feel my security team's glares from here. Getting out of LA without a small contingent of staff had taken no small amount of convincing, and I wasn't about to spend my time thinking about them while here.
Yeah? How's that working for you?
As if on cue, my phone rang. Rad Bickman, my manager. Again. Like he wasn't a huge part of why I'd fled LA, and a huge part of everything that'd gone wrong leading up to getting on the plane to come here.
Nope! Ignore. Couldn't deal with that right now.
Outside my window, the quaint downtown positively burst with life—definitely a different version of Silverton than I'd had as a kid. I'd read about the sleepy settlement going through a boom since Rockstar Jamie Morris had bought a house and developed land here around the same time he got married—the tabloids had had a field day declaring music's most eligible bachelor was off the market—a handful of years ago. Paired with the growth of the resort itself, including a luxury hotel on site, it felt like a real hoity toity ski town now. Not as much as Aspen or Park City, or even Jackson Hole. I'd been to all those places, but never ventured back here.
"That's the Egyptian Theater. Odd trend out here, but lots of the towns have 'em. Usually function as regular theaters until February when the film festivals start," Jarrod shared.
I eyed the old building with pastel coloring and intricate geometric shapes on the front, my belly swooping low as that particular aesthetic pushed me back in time. Candy—or as I'd known her then, Mom—and I had gone there fairly often. Sunday matinees the last weekend of the month were usually half-priced, so we'd catch whatever we could.
No one would remember me anymore, though. Especially without Candy, but even with her, I doubted anyone would've placed us. My mom had never been social, and even if she had, she'd been the far more sophisticated Candice then.
Shifting in the squeaky back seat, I admired the shops lining Main Street just as Jarrod piped up again.
"You'll wanna try Guac for the best Mexican food in the state, and I'm not joking. Rise and Shine for breads and coffee, also award-winning. Fancier restaurants on Elk Street one block over. Here you've got a few stores and such as well, plus if you're a pasta lover, I highly recommend Basta."
"Sounds great," I said, taking in the adorable storefronts and metal signs arching along the street which reminded me more of a European city than what I'd remembered of this place. They must've been there all along, but at fourteen, I hadn't noticed them.
None of the restaurants looked familiar, though I remembered the Elk Street Grill, but we didn't eat out much when we lived here, so maybe the others had always been here too. Even for a tight-knit community like this one, Candy and I were outsiders. I did okay at school, wasn't bullied or anything, but I'd left Silverton before I ever made it out of my awkward teen stage.
And then you had your awkward teen stage photographed non-stop, indefinitely. Nope. Didn't want to think about the modeling career, either.
I'd landed late-afternoon and happily missed the hour and fifteen-minute drive from Salt Lake City thanks to the new private airport. My pop into the grocery had taken me ten minutes, max, but here we were, driving through town, and the January sky had already dimmed. Streetlights flipped on as we passed, and twinkle lights lit up trunks and branches of the trees lining the sidewalks.
Quaint. Beautiful. A little piece of my frozen heart thawed a touch. Not enough to feel the wretched thing stubbornly beating there, but enough to feel something like warmth as we crawled by the old Silver Ridge Lodge, then the massive, surprisingly pretty hotel that'd helped put the place on tourist destination lists since it opened a few years ago.
Once on the road out of town, he asked, "Have you stayed at this place? I haven't taken someone this far up before."
He didn't glance back as he drove, for which I was thankful.
At least he was mindful of the twisting canyon road he'd turned onto. Out of the bustling town and into the canyon, the light disappeared even more as we followed the road cutting between two of the Silver Ridge mountains. The larger was Silver Ridge Peak, but I couldn't remember the river's name that slipped by next to us.
"I haven't. Seems pretty new."
The only reason I'd been able to find an open StayBnB so last-minute during peak ski season was thanks to total luck and perfect timing. I'd been scouring the website, checking back every few days, when it popped up. I hadn't even looked that closely, just told Mr. Warrick Saint I wanted his place for at least a thirty-day stay.
He'd accepted immediately, thank goodness. When I landed, I'd had a message from the owner. "Sorry for the inconvenience. My brother Wyatt will be meeting you today. I will check in first thing tomorrow, but please let Wyatt know if there's anything you need this evening."
Warrick and Wyatt? I'd forgotten the kitschy Utah trend of naming everyone in a family with the same first letter. Two brothers wasn't so bad, though.
That little train of thought failed to distract me from the knot in my stomach tightening. By now, the sensation had become an old friend. Was I even alive if I didn't feel nauseated from anxiety with a side of impending doom?
The thirty-five-minute drive up the second canyon slipped by in a smear of brown and white. It must've snowed in the last few days, but much of it had melted off at lower elevations. The higher we got into these mountains, the more covered everything seemed. The more pure.
I fit in better with the dirty, melting remnants of snow than the powdery fresh stuff.
"Looks like this is it?" Jarrod asked, as though I'd know.
We'd skirted a fenced-in field for a few miles after leaving the canyon, and now sat on the abandoned-looking road in front of a high wooden arch with a sign that said, "All Saints Ranch."
"Yep. The directions said drive up to the main house, then turn right and we'll see it." Crap, I hope we see it.
I'd chosen this place primarily because it was the only option. The bonus of its secluded location had seemed like a stroke of genius. No crowds from in town. No curious neighbors. But wow, this place was out here.
"Here's hoping the Saints, whoever they are, aren't psychopaths and murderers!" He chuckled heartily at his joke. "Just kidding. They're totally nice. You're safe with them."
The knot in me doubled in size.
Maybe Jarrod did know the Saints. Maybe they'd paid him off to lure unsuspecting women up to their murder cabin.
You booked this online, genius. Oh, yeah.
But was I a complete idiot? Obviously, yes. I more so than most people, though? Had I just set myself up to get axe-murdered by some country bumpkin Utahan cattle ranchers? Aside from Kristoffer, no one would know I was here. No one would find my body.
No one would be asking. If anyone did ask, they'd all be people who'd crack champagne and toast your demise.
I scrunched my eyes shut, banishing that barrage of thoughts. Not helpful, brain! Get yourself together!
Jarrod drove the long stretch of road flanked by fenced pastures all the way to a large farmhouse. A sprawling two-story home, it looked huge as we approached. Coach lamps lit the front to show stonework and wood—it had already grown too dim to see the full design. But it looked nice. Definitely nicer than something a murderer would own… right?
"Fancy," Jarrod said as he turned right. "The Saints are good people, though. You'll be fine."
A little gust of relief swept through me. The building sat less than a quarter mile away, and it had that same warm glow as the main house. Warrick, or Wyatt, or whoever, had turned on the outside lights and it looked like a few inside.
Another shard of ice dropped off and melted in me. My chest warmed at the cozy-looking cottage. Well, from what I could tell, it looked like a barn, and the description had said it was a converted small barn. Hopefully, I wouldn't freeze to death, but based on the smoke rising out of the chimney, the fireplace worked.
That I had no idea how to make a fire and no one to do it for me would be… interesting. Maybe the owner could teach me. I'd have to face any number of things I didn't know how to do on this trip, and that was part of the point, wasn't it? To haul myself out of this rut, if not to actually find myself.
"Well, all set here, I think. Oh, good, looks like somebody's here to greet you. I would'a felt weird just droppin' ya here in the middle of nowhere." Jarrod exited the car and popped the trunk.
I swallowed, pushed out an exhale, and braced myself. The next few minutes could get weird, but I'd handle it. And then I could go inside, and hopefully not get axe-murdered, and finally, finally cry myself to sleep.
The trunk slammed before I shut my door.
"Here ya go, Miss Mayhem."
Crap. Definitely recognized me—my stage name was pretty conspicuous. I'd traveled and booked under my real name, but no one knew me as anything but Miss Mayhem. That name was too notorious. It'd served me well the last decade as I clawed my way into pop icon status, but I'd always been just on the edge of disfavor. Too bold. Too revealing. And lately, too wrapped up in the horrible mess with Candy and repeated failed records.
Fortunately, this guy didn't seem all that fazed. "Thanks, Jarrod. Can I have you sign a quick non-disclosure for me? I know it's odd, but I have to—"
"Say no more, say no more. I've done it plenty of times."
Thank God. I swiped into the app on my phone, asked for his full name, and presented him with the signature block. This wasn't the way I normally did things. Who cared if a cab driver knew where I was staying? But I couldn't afford a crowd here, and I couldn't afford anyone knowing anything. The bad news could follow me into a cave, and I didn't need to do anything but simply exist to fuel the fire these days.
"Thanks, Jarrod. I don't mean to be a jerk, but I will have to use that if anything leaks. I—"
"Don't worry. I can keep my trap shut. Want me to stay 'til you get inside?" He glanced back toward the house.
Whoever had been here to greet me had disappeared. The front door to the little cottage stood wide open and light spilled out, so someone was still in there.
"Nah. I'll be fine." Or I'll get murdered. Tomato, tomahto.
"If you're sure…"
Ah, sweet Jarrod. Trying to keep me from showing up as a celebrity victim on a true crime podcast.
"I'm sure. Thanks again for the drive, and the, well, you know." No idea why it felt weird to reference the NDA he'd just signed, but it did.
He nodded, and without another word, loaded back into his car and left.
I grabbed the handles to both giant rolling suitcases and pulled them with me, thankful the dirt driveway was frozen solid. This would be just lovely when the ground thawed in a few months, though who knew if I'd still be here.
I heaved the two bags up the short staircase right to the door with my purse and canvas bag of groceries over one shoulder, then knocked. No answer. But there was definitely someone in there, and I'd checked the reservation—I was only ten minutes late. So… I'd go in.
"Hello?"
Inside, the light was soft and warmth from the glowing fire emanated down the hall. That scent of real wood burning made it feel immediately cozy, though I hadn't seen more than the entryway. It felt welcoming. Well, aside from that whole missing host thing.
"Hello?" I projected my voice a little more.
A crash of some kind sounded farther in, followed by a low muttered curse.
I left the door open but abandoned my suitcases. If I had to make a break for it, I didn't want to have any barriers. Granted, where I'd break to would be a problem considering we were miles from anything. I straightened my spine and pulled my shoulders back, then shuffled inside, the rubberized soles of my leather boots not making a sound on the stone floor of the entryway.
Just as I reached the end of the hallway, a towering figure arrived, backlit by the lights behind him.
"Shoot. I'm sorry."
He stepped to the side and waved a hand for me to continue into the living room. He then followed me into the brightly lit space. A fire roared from the stone fireplace in the center of the room. It wasn't huge, but everything in it looked plush, clean, and comfortable, decorated in creams and natural colors with little pops of deep teal.
Thank God! No way would a serial killer have teal throw pillows.
"I'm Wyatt. I think my brother mentioned I'd be meeting you today?"
He moved to the counter of the small kitchen just to the left where a stack of papers and set of keys waited. He still hadn't actually looked at me, which was fine by me. If he never did, he wouldn't recognize me, and that made life that much easier.
The voice, though. He had a very good voice. I had a thing for voices, which made some sense, considering I now earned my living with mine. Well, and my body, but that thought had grown more and more depressing lately.
But his voice? Rich and low, a little rumbly. Like if I put my head on his chest, the sound would fill up his whole body and spill over into mine, too. Except that's a really weird thought to have about a potential murderer's voice.
He was tall. Not towering, but I was five-ten, so it was a rare man who full-on towered. But he had at least four inches on me, which I appreciated. Granted, he did have boots on to give him a little lift—brown leather cowboy boots from the looks of it.
Wait, do I need cowboy boots? Probably, but Now's not the time, brain!
His shoulders were broad inside a canvas-looking jacket, and he seemed built, but he also wore the outer layer plus some kind of plaid something that stuck out from under it, so he might've been hiding a giant beer belly and it'd be hard to tell.
Unlikely, based on this view, my rude, lascivious little brain whispered as I took note of his jeans and, honest to God—wait, really? Brown leather chaps. I wanted to laugh, but they looked… good. I'd never gone for the cowboy rough rider look but hi. Maybe I'd been missing out.
They framed his—
He looked like—
He broke my brain.
The probably-not-a-serial-killer brother-of-the-host chap-wearing cowboy-man straight up wiped my mind.
I cleared my throat, despite years of being reprimanded for the habit, grasping for the thread of the conversation. "He did, yes."
"Good. Good." Then finally, he looked up.
That didn't help one bit, because my chappified brain only saw crystal blue eyes on a face so rough and handsome, so unpolished and yet overtly beautiful, I let out a weird little gust of air and forgot completely about hiding my face from him.
Chapter 2
Wyatt
I was not expecting a woman.
When Warrick told me to meet a guy named Callaway Rice at his new StayBnB rental sitting just a few hundred yards from our house, I said sure.
Should've been simple. Show up. Meet the guy and let him in. Show him around. Get home and start dinner before passing out after a long and mostly empty day.
I was not expecting a woman, and yet, there she was. And of course, I'd realized it was a woman when she came in, but I'd been so distracted, worried I'd forget to tell her something, that I didn't take her in until this moment.
And… how? How had I not sensed it? How had I not known in some core part of me when she entered the house? I spent ninety percent of my time around men except for the paltry handful of dates I made myself go on each month. She should've felt different.
She did, now that I let myself notice.
This was one sincerely beautiful woman. And I couldn't actually see all that much of her. Dark eyes stared back at me from under the brim of a cap pulled almost comically low. Dark hair, pitch black, spilled over her shoulder in a long, fancy-looking braid. Each feature on her face that I could see looked perfectly shaped—cheekbones high and smooth, nose just right, full dusky pink lips, and… whatever else. Damn, if she'd just remove that hat. I studied her, wanting to piece together what she really looked like under there.
Which was clearly written on my face because she winced. I shifted my eyes away for fear of making her uncomfortable. I was a fairly imposing man, and despite her being quite tall, she was still smaller than me, and a woman, and from way out of town.
Not ideal to freak out the new tenant.
"So, WIFI password is there. Instructions for the heating also there. The fire's going strong and the rest of the house should heat up quick. Warrick will swing by around nine tomorrow, or whatever time you arranged, to give you the full spiel. Questions?"
I felt her eyes on me but didn't look again. Partly because I'd evidently creeped her out, and partly because I suspected I'd end up staring at her again. Something about her just grabbed at me—a feeling I didn't remember ever having. Granted, I dragged through the days with as much feeling as a zombie, so maybe it wasn't all that remarkable.
"Are you wearing chaps?"
I coughed, choking on air.
"Yes?" I dared a glance back at her.
She looked as surprised as I was that she'd asked the question.
"Huh. Okay."
Odd woman. "Well, uh, anything else I can do for you?"
She surveyed the space, then swiped her phone, and her shoulders relaxed. "No, I'm good."
Nodding, I turned and immediately made my way to the door. "Call the number on the listing if you have any issues at all. We're not too far. And Warrick'll see you tomorrow."
With a quiet farewell, she shut the door behind me. I took the knit cap from my pocket and pulled it down over my head. I'd skipped shucking the chaps because it hadn't occurred to me the sight might be unusual. And second, they'd kept me warm on the walk to the little house, and now back to my place.
It'd be interesting having someone else around. Warrick was in town a lot more since he'd purchased a house down there to fix up now that he'd finished this place. I didn't mind the solitude since I'd grown used to it in the past few years, but after the breakup with Samantha, the distance from town seemed to have multiplied.
Was it the breakup? Part of me had pegged this dragging, dull quality to life lately on that. In truth, I couldn't honestly say whether it was or not. I only knew I hadn't felt a kick in my chest like the one I'd experienced when Callaway Rice turned up since I didn't know when. Since well before I'd pared back at work. Since giving it a try with Leo Morrison and realized we were better as friends, which had been a few years ago, to say the least.
So not being alone? I'd take it.
If that someone happened to be a beautiful woman?
Fine by me.
***
Warrick crashed through the door an hour later. Genuinely, the man collided with the panel and somehow made the knob turn in order to get inside. For someone who could be so nimble on his feet, he was one of the noisiest people I'd ever met. Basically the opposite of our middle brother Wilder, who could be standing next to you for a full five minutes before you even sensed him, the creep.
"Did you meet him? Everything good?" he hollered from the mud room just off the garage.
I bit back a small smile and along with it, the urge to say something like, If by him you mean a dangerously beautiful woman, then yes. Instead, I shook the pan, swishing around the sautéing vegetables just as the rice maker beeped. "Yeah, I did. It's all good."
"Why do you sound weird?" he asked, dumping an armful of grocery bags on the counter.
Even if he was noisy, he tended to be tidy, thankfully. I didn't think of myself as particularly fussy, but messes made my skin crawl. Wait, was that plastic I heard?
"Didn't I send you with reusable bags?"
He flattened his lips. "I forgot them in the car. I was cold and wanted to get it done with. I'll pay my penance by saving each one and using it for a special project. I'll braid them into sustainably woven baskets to hold organic apples or something. It'll be fine."
"Sure you will."
The fridge door clunked open. I cringed, but at least he couldn't see me while I nudged the chicken with a wooden spoon and refused to watch him thunk the three eighteen-packs of eggs down like they were deflated footballs and not flimsy carboard holding something delicate and breakable.
"I will. Anyway, everything go okay with the occupant? Nice dude?"
I chuckled. There has never been a woman less dude-like in the history of mankind. Even with her hat covering half her face. But there were so few surprises in life, and I wanted him to have the same little discovery I'd had tomorrow when he met her. He'd waltz in expecting the image he'd crafted of the person behind the name, and instead, he'd find this surprisingly tall, striking woman… not that I wanted him to find her beautiful. Not that I cared. Whatever.
"Seemed nice enough. Tired from travel. Asked if I was wearing chaps." I turned and saw him startle.
"Really?"
"Well, I was. But yeah. Not sure why that was such a surprising sight, but there you have it."
"Huh. Guess Callaway Rice is more of a city person."
I stifled my laugh then. I had no idea if she was a city person. I didn't know a thing about her but wouldn't mind finding out.
Ironic that a truly interesting person had moved in directly next door when I'd been scouring an app, searching for even a whiff of that same desire with what felt like innumerable women. Maybe that was the power of meeting someone in real life.
Or maybe it's just this woman.
Bags rustled as he unloaded the rest of the groceries. I dished up rice and stir-fry into shallow bowls and topped them with thin-sliced scallions and a sprinkle of toasted sesame seeds. I'd started following this food blogger lately, because my life had become pathetic, and she was big on garnishes. I'd held out for a while, but once I caved, I realized just what a difference they made to both presentation and flavor.
"This looks amazing. I'm starving." He grabbed his plate and a glass of water and shuffled to the table situated right here in the kitchen with a view out to the living room. Mom and Grandma Tilda had been ahead of their time when they designed the space decades ago.
Granted, we'd updated since, especially in the last few years as the business had grown. I'd even built on to add an office. There was just no point having to commute to a job that already involved a fair amount of local travel.
Or, used to. Hiring managers and stepping back had changed that significantly. Which was what I'd wanted.
I'd been exhausted—burnt like well-done steak left on another ten minutes. So… this was good. Hiring help had been the right move, and having this time was all perfectly in line with what I'd said I wanted.
Right.
The disconnect with real life, losing track of the way time passed in a given day, week, or month—that, I hadn't anticipated.
"Should be good. I used a new sauce. See what you think."
I said this as though he wouldn't tell me. Warrick was the most generous person I knew in pretty much every way. That went from sharing his thoughts on something you fed him to letting his first-ever tenant in his new rental home sign up for thirty-day occupancy.
He groaned long and low, then shoved another heaping forkful into his mouth, and I took that as his approval. The cabbage, carrots, and red peppers thinly sliced and tossed in with the ground chicken I'd browned with grated ginger and garlic did turn out well. We loved beef around here, of course, but were both fairly health-conscious, which meant we couldn't actually eat beef every day or we'd be in trouble.
We sat quietly, both wolfing down the food with a lack of manners that would make our mother howl, but she wasn't here. She'd lived with us for a long time, but about six years ago, she'd had it with the distance from town.
"So, I had an idea."
I smothered the smile that immediately jumped to my lips. This was the phrase that echoed round the world every time Warrick thought up another scheme. It was also something that made me look forward—what would Warrick do? What amazing plan would he have next? I didn't thank God for my little brother enough.
"Yeah? Do tell."
He snuggled down in his seat, leaning back against the carved wood chair. They were simple, but so comfortable. Grandma's boyfriend Rex had carved them years ago, like a decent amount of the wood furniture in the house. He'd never lived here, but he probably should've. Would've been fun to have had a man around.
"Fitness bootcamp in the old mill building."
He said this like I'd know what that meant, but I didn't need to respond. After gulping down the rest of his meal, he ran through the idea. His excitement, the perpetual energy he brought to everything he did, buoyed me. Like it had many times over the years.
And some of that constant tightness that lived in my chest eased. Life would go on, and it would be okay.