All of You
The Rambler Battalion, Book 5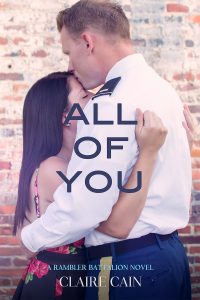 BLURB:
Country music superstar Whit Grantham has a reputation problem—nothing a fake boyfriend won't fix. And handsome, golden boy LT. Ben Holder is the perfect man for the job. The only catch is that he has no idea Whit knows some very personal details about him, which she has no intention of revealing.
Ben's happy to agree to the bargain—after all, he gets to spend time with Whit and step into a world far different than his military life. But when their sham relationship starts feeling real, the truth about the secrets Whit has been keeping erupts in staggering ways.
Afraid she's waited too long to tell him the truth, Whit tries desperately to hang on to the shattered pieces of the man she has now come to love. All the while, Ben fears that what he has to offer, all the broken parts he's worked so hard to put back together, aren't nearly enough for Whit.
Where to find it: Available in e-book format on Amazon in Kindle Unlimited and for purchase. The print version is available wherever books are sold online!
This site is reader-supported. When you buy through links on the site, I may earn a small commission. Thanks.